How To Safely Operate a Jet Ski
Do you enjoy extreme sports? Eager to get on your Jet Ski and hit the waters? 
Before you do, make sure you know how to properly maintain safety while you are having fun. 
It's essential to take all the necessary precautions before getting on your Jet Ski. These will not only guarantee a smoother and safer experience for you but everyone else out on the water.
For all those riding a Jet Ski for the first time, a basic Jet Ski safety course is highly recommended. However, following these top Jet Ski safety tips can help you avoid having to take one.
Here are the top 4 safety tips for operating a jet ski:
Watch Your Surroundings
When in the water, remain conscious of your surroundings. Keep an eye out for boats and fellow Jet Skiers, and keep your distance to avoid any collisions. Make sure you know where other vessels are before turning or changing direction. If another vessel has a flag raised, slow down and give them a large radius! A raised flag indicates a swimmer in the waternearby. Avoid sand bars, large rocks, and bridges!
To remain active and alert while on your Jet Ski, ensure you have not been drinking before you get on one. If you are unfit to drive a car, you are unfit to operate a Jet Ski.
Speeding Thrills and Kills
Ironic? Even extreme sports have their limits. It is essential to maintain local speed limits to avoid speeding fines. Keep your speed low while operating near the coastline or in crowded areas, and pick up speed when in open waters.
Jet Skiers who do not remain within the local speed limits are fined for doing so. Even worse, speeding is one of the leading causes of jet skiing accidents, which is why limits must be maintained.
When you are nearing a buoy or swim area, slow down! Power off the Jet Ski and cruise in on an idle. Do not beach your Jet Ski! An anchor will keep your Jet Ski closeby in shallow water.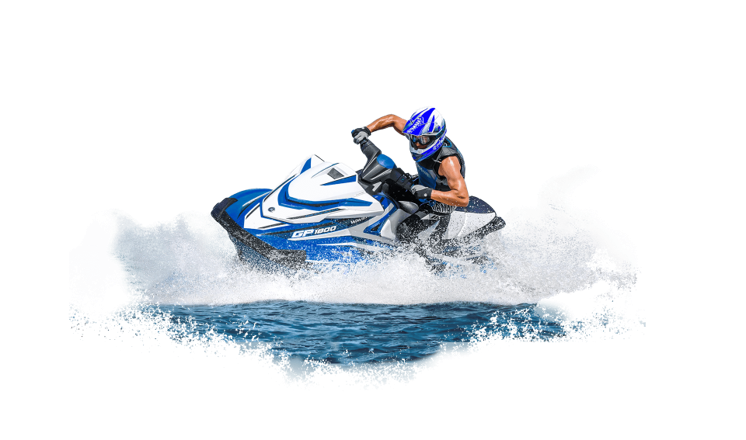 Gear Up
Make sure you're wearing all the necessary equipment before you get on to your jet ski. Ensure every rider as a life jacket or personal floatation device well-fitted before getting on. For a better grip on your Jet Ski, close-toed shoes with sole traction are recommended.
Your Jet Ski rental is equipped with a 'safety lanyard'. Ensure the lanyard is properly attached to the Jet Ski dash on one end, and you on the other. If you fall off, the Jet Ski will automaticaly power off. Additionally, wearing gloves is also recommended and will ensure your hand doesn't slip off the handles while operating.
Ride a Safe Jet Ski
Even if you take all the right precautions, riding an unsafe machine can be hazardous. Make sure you rent your Jet Ski from only the best and most trusted source. Choose Silverado Rentals for your next lake activity! Silverado Rentals not only provides the best up to date equipment, but also provides the convenience of Jet Ski delivery to the lake marina! Don't risk accidents while towing or unloading your Jet Ski rental, we take care of that for you.