Five Jet Ski Tips For First-Time Riders
If you have gathered up the courage to ride a Jet Ski for the very first time, there are a few essential pointers that you should keep in mind. Many first time riders tend to ignore the safety protocols and give in to panic attacks when the ride becomes a little adventurous.
No need to worry! Here are 5 useful tips for beginner Jet Ski riders that will hopefully make your experience a memorable one.
Don't Ignore Safety Protocols
The first and most important Jet Skiing tip is always to wear a life jacket. It will save you in the case of any unforeseen circumstances. It is better to opt for colorful and bright jackets that stand out from a distance. Make your life jacket a priority, even if you are a good swimmer.
Ensure you have a flag on your Jet Ski where it is accesible and secure. If (and when) a rider falls off, the flag should be raised by another Jet Ski rider to indicate a swimmer in the water. Nearby watercrafts will exercise precaution when operating near you.
Check out our other safety tips here.
How to Ride a Jet Ski
Many beginners have trouble keeping their Jet Ski straight while riding it. A helpful tip is to go easy on the handlebars. Allow your body to do the steering by keeping your posture straight.
Try to relax your hand, and if you get scared it is better to loosen up! Often first time riders hold the throttle tighter on accident when they get nervous or scared, which results in a sudden thrust forward. Remember to stay calm, and trust the machine. Our Yamaha Cruiser is built for safety, with high end technology such as cruise control, no-wake, and RiDE. Read more here.
How to Re-Board your Jet Ski
It's common for first time riders to fall off their Jet Ski. Getting back on may seem like a struggle. Always keep in mind that you re-board from the back, not from the sides. There is a handle on the back behind the seat, as well as a lowered back deck for mounting easily. Mounting from the back will also allow the machine to remain well centered, distributing weight evenly.
If someone else is operating the Jet Ski, ensure that they do not have their hands on the throttle while you are mounting!
Sit for Safety
Many riders like to ride the Jet Ski while standing. Although there is no harm in it for an experienced rider, it may be a challenge for a first-timer. A standing position will make it harder for you to control the Jet Ski, increasing the chances of you falling off or hurting yourself. It is also more likely that if you hit a wave while standing up, the sudden upward movement may result in excess downward pressure on the throttle, suddenly increasing your speed. For extra control and safety, it is best to operate the Jet Ski while sitting down.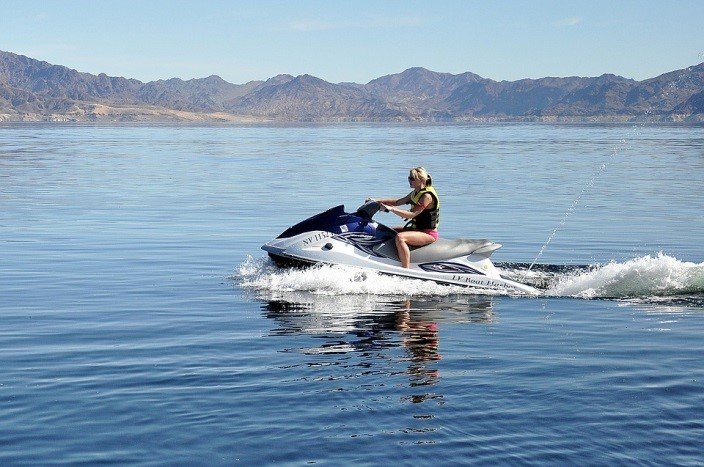 Relax and Have Fun!
Many first-timers give in to panic and do not enjoy the experience. We advise you to relax your mind and body and make the most of your Jet Skiing adventure. If you clench your muscles and hold on too tight, the chances are that you will end up with sore and achy muscles. So loosen up and enjoy your Jet Ski experience.
Final Thoughts
These are a few essential tips for riding Jet Ski that newbies should keep in mind before embarking on their Jet Ski journey. Just remember to follow the safety guidelines, and don't forget to have fun.
If you want to have the best experience for your first ride, ensure that you rent the best Jet Ski available! Our Yamaha Cruiser is sturdy, well-balanced, and has advanced features such as cruise control, no-wake, and RiDE technology. You can rent our Jet Ski for an entire day of fun! The longer you spend on the Jet Ski, the more comfortable you'll feel.