How To Operate a Jet Ski?
Jet Skis are an amazing vehicle to have and enjoy your trips to the lake as you glide across the water with them. To ensure a safe and fun time, learn how to properly operate a Jet Ski beforehand!
Jet Skis are classified as Class A vessels by the U.S. Coast Guard, so all the rules and regulations for under 16 feet boats apply to them as well. Read Jet Ski Opearing Legal Guidelines here.
For this reason, before you take you Jet Ski out on the lake, you must be able to operate it in the best way possible so that you can overcome all challenges.
How to operate a Jet Ski correctly:
Safety First
First things first, your safety is the most important thing. For this reason, make sure the Jet Ski is in good condition. Also, be sure to securely attach your life jacket, as well as all other riders' life jackets.
Read our Jet Ski Safety tips here.
Driving
After finding a comfortable position for seating, grab the handlebars, and firmly place your feet in the footrests. Now turn on the ignition switch and start to push the throttle slowly.
Once you start to hit the water, you need to understand that driving defensively is the key to riding a Jet Ski safetly. A Jet Ski does not have brakes, but rather requires throttle in order to run. 
Maintain Distance from others: boats, Jet Skis, kayaks, etc. This decreases the chance of an accident occuring.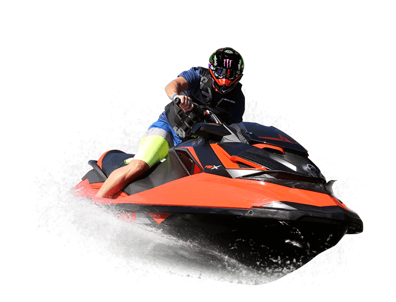 Knee Deep Ride
Avoid Sandbars! Only drive in water that is at least knee-deep. Lowere the speed of your Jet Ski when appraching the No-Wake zones, and power off once you have passed the buoys. The Jet Ski can coast in while on idle, and once the water is shallow enough you can walk it in or anchor it in place. Do not beach your Jet Ski.
Relax and Have Fun!
Operating a Jet Ski may seem daunting, but with these few tips (and our other resources!), you can pick up the skill in no time. Remember to follow the safety guidelines, and don't forget to have fun.
If you want to have the best experience for your first ride, ensure that you rent the best Jet Ski available! Our Yamaha Cruiser is sturdy, well-balanced, and has advanced features such as cruise control, no-wake, and RiDE technology. You can rent our Jet Ski for an entire day of fun! The longer you spend on the Jet Ski, the more comfortable you'll feel.